BATTLE ZOMBIE SHOOTER: SURVIVAL OF THE DEAD STEAM KEY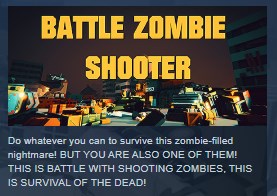 https://store.steampowered.com/app/846430/BATTLE_ZOMBIE_SHOOTER_SURVIVAL_OF_THE_DEAD/
????????????????
STEAM KEY REGION FREE GLOBAL
We are just two friendly apes who learned how to make games in our free time and now love to bring our often crazy ideas to live in all kinds of games. Please expect our games to be smaller, raw experiences.
We always love to chat with you guys and greatly appreciate all of your feedback in order to become better game creators. Just tell us your questions or ideas on the forums, Twitter or Facebook. If you encounter bugs or any problems, we will do all we can to ensure the best support that a drunken ape could possibly give.
2020.
After several nuclear strikes a zombie apocalypse broke out which destroyed 99% of humanity.
In the following years the incredible amount of zombies killed and ate what was left of living creatures on earth.
A fight for survival broke out between the zombies as eatable brains became less and less and the zombies started killing each other.
Now it is your time to fight and survive in this top down arena shooter.
Features:
- Play in against bots in singleplayer mode or against other players online
- Up to 100 player can fight against each other
- Unlock more than 30 different zombies
- Level up your Zombie and become the king in the ring
- 2 Different Play modes in singleplayer games:
- Deathmatch
- IO styled game
---
ИНСТРУКЦИЯ ПО АКТИВАЦИИ:
1. Необходимо скачать и установить Steam http://steampowered.com/download/SteamInstall.msi
2. Зайти под своей учетной записью или зарегистрировать новую.
3. Перейти в раздел "добавить игру" и выбрать "Активировать через Steam...", ввести ключ полученный после оплаты.
Цена:
15
руб.
Купить или узнать подробнее
← Назад на главную страницу